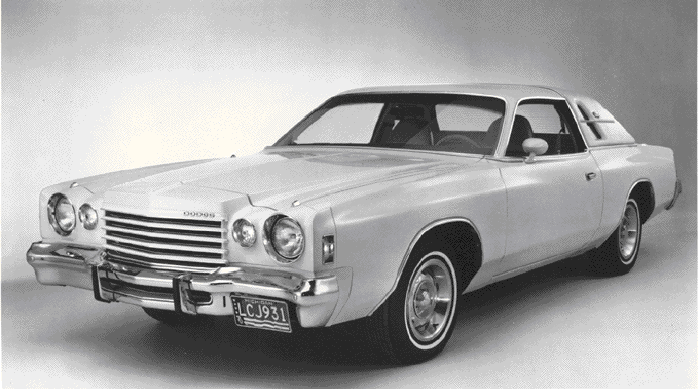 1977 Charger S.E. with Midnight Package Chrysler photo
When it comes to collecting Dodge Chargers there are three different groups: The purist who believe that Bill Brownlie's hurried up fastback Coronet show car is the best. The second is the performance crowd believes that the 1968-1970 stock car inspired models when names like R/T truly meant Road and Track. Then there is the race proven crowd, which will quickly tell you that the 1971-1974 Charger is one of the slipperiest designs and that it is a 1972 Charger that is King Richard Petty's favorite race car of all time. Disagree as they must, there is one factor that all agree on the 1975-1978 style is the least desirable. In fact this Monte Carlo clone lost all essence of what the Charger was.
But just as there are good in bad people , they are those Monte Carlo wanta be Chargers that are designated to be a collector and sit side by side with the other Chargers. The Daytona package was which nothing more than tape and decals but is already on it way favor with a starch group of devotes . But there is one Charger that has a different look to it. The 1977 Midnight Charger.
This package was introduced late in the 1977 model year. It was available in any color you like as long as it was moonlight white or silver. It featured a custom grille with plastic divider bar across the face, which gave it a Cordoba feel. Also include with the package was special tail lamp treatment, body colored sport mirror, opera window with single louver bar, special comfort style bucket seat interior and elk grain padded landau vinyl top. Special slotted 15 inch road wheels were also included with white wall tires. Fender mounted turn indicators were party of the light package which was also included with the package. All were available on the Charger SE model.
Only a total of 2,993 of these models were made. It is estimated that less the 500 exist today. If you have one of these rare packages hang on to it. If not you can find examples for under $5000.00 dollars. They are rare and hard to find but without a doubt they are bound to be to become collectible.
Show Me Car Price Scale
Model

Class 1

Class 2

Class 3

Class 4

Class 5

Salvage

Charger SE

with Midnight Pkg.

7500.00

5850.00

3890.00

2100.00

1000.00

500.00

We base our prices on current markets that these models are selling. Or that the base currant mode is selling with an increase for special add ons. This is a summary of our classifications.

Class 1- 100% restored to factory specifications. Looks like it came right off the showroom floor. A Class 1 car is not driven. Very few cars are Class 1.
Class 2- An original that very well-maintained showing only minimal wear. Could be an older professional restoration. Driven only less then 1,000 miles a year.
Class 3- What most show cars are. Looks excellent 20 feet away. But there are obvious signs worn foot pedals and carpeting, chrome is not as bright. But all systems are in operating order. Driven less then 3,000 mile a year.
Class 4- A common used car. Easily shows signs of wear even from 20 feet away. But all systems are in working order or need on minor repair to make them so. A restoration driven over 3,000 miles a year. Could have light body damage, but no replacement body panels.
Class 5- Needs total restoration. Damaged front fenders, hood or door panels that need to be replaced. Car can be running or not. No rusted out floor pans, rear quarters or roof panels.
Salvage- Usually not running. Rusted out floor pans, roof but not strip to the point that is not useful for parts.