A Numbers Matching 1957 Chevy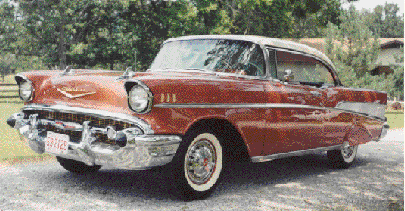 We admit it:seeing a 1957 Chevrolet at a car show is a lot like shaking hands with a politician during an election year. It leaves you with just sort of an empty feeling, you seen so many of them, and hear all the promises that we almost passed by Stanley Pitchford's Chevy. "Oh gosh, another 1957 Chevy, we thought to ourselves." When we were told you have to see this one,
one glance and we were interested. No, this was no converted hot painted black or flaming red, or that familiar color of blue green and white. No, this car was painted in Sierra Gold and Adobe Beige. As we got closer we noticed how clean this model was, and that there were no modern touches. Sounds of "Peggy Sue" roared through our heads, and we could picture ourselves tooling along the boulevard, looking for that great little burger stand out along Route 66.
Stanley and his wife Donnie have chosen to prove us with a time machine with their spotless restoration of this numbers matching car. Instead of just blending the looks of the 57 Chevy with the power of a big block, they allowed Bob Kuntz of St. Louis, MO to wave his magic wand over the Super Turbo Fire 283-ci with the optional Power Pack, which added a Carter 4-bbl and dual exhaust. Pushing the 220-horses to the rear axle is a Powerglide automatic.
Sitting inside the Pitchford's machine is where you see the painstaking detail. No reminders that this car is over 40 years old, the plush black and copper with beige vinyl trim is a fresh as it was that cold winter's day in 1956 when it ran off the St. Louis, MO assembly line. Before being shipped to Earnest Allen Chevrolet in Ft. Worth, TX where the original owner bought it and kept it till 1987. Sitting there behind that steering wheel, and hearing the crinkle of vinyl as you settle in, you can just image flipping on the radio and hearing the groovin sounds of the King and the troubles of the modern world just fade away like lemon drops. You grab Mary Sue and head downtown for a burger and a cherry coke before you tear across town to dance the night away at the sock hop. No, the Pitchfords didn't just restore a car, they built a time machine.















Step into a time machine! The interior of

Stanley Pitchford clean Numbers matching

1957 Chevrolet.




"THE BEST OF SHOW"

Win with PAH Publishing

Camaro Mini-Restoration Manual

Camaro, Chevrolet prim pony car. This is the book to have. Tiny, it has only 107 pages. But it is packed with the information you need. Part numbers, Casting numbers and all the codes. Decode your VIN and Fisher Body tag. Know what hidden tales your Camaro holds. Only $14.97. Order it today.




MOPAR BROADCAST SHEET DECODER GUIDE 1969-1974. This the book to have if you want to know truly how your Mopar came from the factory. With this guide you can decode your Mopar build sheet line by line. Only $19.97




Both Books are available from






COMING SOON Pontiac Salvage Yard Buyers Guide

711 Hillcrest

Monett, Missouri 65708 USA





Go to: