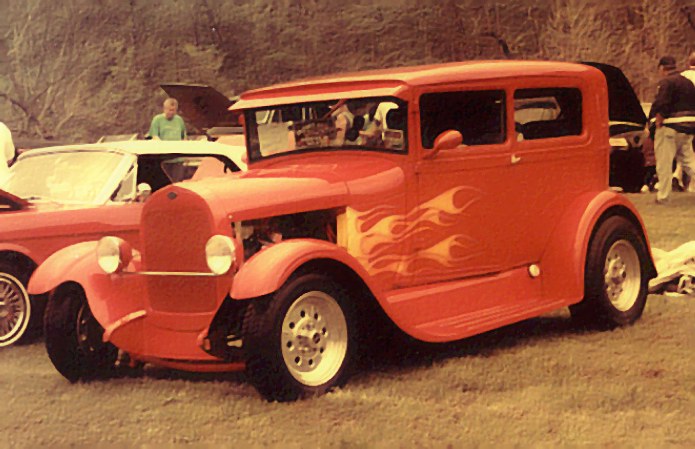 John Ward's flaming 1929 sedan "Cherry Flambe" was a big crowd pleaser
And took top honors in the Street Rod 1900-1936 division.
Overcast skies and the threat of rain did not deter the 17th annual Dogwood Car and Truck show in Cassville, MO. A total of 78 cars and trucks and four motorcycles show up in the spite of rain on April 20,2002 at Roaring River State Park. While rain may have caused some to stay home ( two-hundred were expected) the spirits were not dampened as the car owners and the spectators were greeted with grooving sounds from the 1950's and 1960's provided by DJ Mike Sharp of the Right Sound. Judging was done by the Mid-America Auto Club.
Games and contests were held all day long, including a Hot Wheels race, for those under 16 years of age. Stephen Gerleve won the event and was presented an award at the end of the day. As rain slacked, a quick walk through cars proved there were true favorites with the crowd. John Ward's candy apple red flaming hot rod made many stop in their tracks and take a photo or two. Another crowd drawer was Stanley Pitchford's 1957 Chevy, which is one of the slickest 1957 Chevy's we have seen.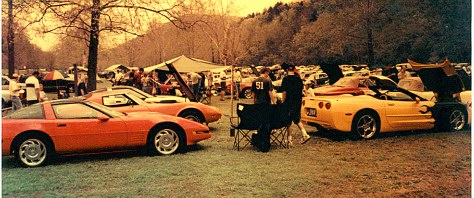 Fred Harshbarger's Hillbilly Kadallic, which is really a custom 1954 International R-100 pickup that has 4200 hours involved in its preparation, and shows. Unfortunately our photos of this truck were destroyed (see editorial) and we can't show you this award winning truck. But not all cars were gleaming examples Richard Auerheimer's hand-made Averauto Run About, which was positioned next to his 1922 Model T, had more then one person stopping and scratching their head trying to "remember that car." Richard would just smile and say with a laugh. "I just made it myself."
A sea of Corvette's is always a intresting sight.
This group is from the Northwest Arkansas Corvette Club.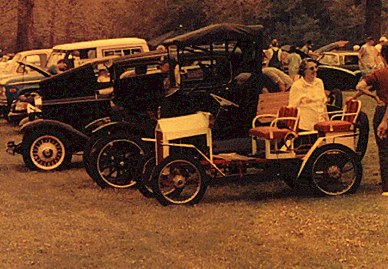 Richard Auernheimer's hand made Averauto created interest. The one of a kind auto features a Briggs and Straton drive axle, Motorcycle wheels and golf cart steering. It was also one few automobiles that you could actually touch. In this photo ,Mrs. Auverheimer explains the cars construction.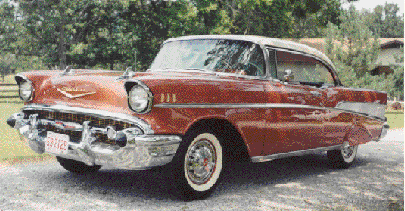 The hit of the show was Stanley Pitchford clean time machine. A numbers matching 1957 Chevrolet.
"THE BEST OF SHOW"

Win with PAH Publishing

Camaro Mini-Restoration Manual

Camaro, Chevrolet prim pony car. This is the book to have. Tiny, it has only 107 pages. But it is packed with the information you need. Part numbers, Casting numbers and all the codes. Decode your VIN and Fisher Body tag. Know what hidden tales your Camaro holds. Only $14.97. Order it today.




MOPAR BROADCAST SHEET DECODER GUIDE 1969-1974. This the book to have if you want to know truely how your Mopar came from the factory. With this guide you can decode your Mopar build sheet line by line. Only $19.97




Both Books are available from





711 Hillcrest

Monett, MIssouri 65708 USA

CASSVILLE DOGWOOD CAR AND TRUCK SHOW WINNERS
Antique Cars

1st- Alan Frericks

2nd- Richard Auernheimer

Classic Cars

1948-1957

1st- Stanley Pitchford

2nd- Dale Kester

Stock Cars

1900-1972

1st-Jim Dobbs

2nd Robert Baker

Stock Cars

1973-1995

1st- Pete Hernandez

2nd- Cherry Warren

Modifed Trucks

1900-1972

1st- Fred Harshbarger

2nd-Chris Ruscha

Modifed Trucks

1973-1995

1st- Robert Seekamp

2nd-Richard Chambers

Convertible

1st Jess Harvey

2nd- Debbie Rice

Street Machine

1949-1963

1st-Terry Meek

2nd- Tom Woods

Street Machine

1964-1995

1st Dustin Griffith

2nd Chuck Whitcomb

Street Rod

1900-1936

1st John Ward

Street Rod

1937-1948

1st Cliff and Judy Reeves

2nd-Erroll Warshall

All Cars and Trucks

1996-2002

1st -Bonnie Stroiler

2nd-Erroll Warshall

Best Interior

Fred Hill

Largest Car Club

Route 66 Mopar Club

Chamber of Commerce Show Stopper

Stanley Pitchford

Mid-America Auto Club Award

Dale Kester

Hot Wheels Race

Stephen Gerleve






Go to: