The craze of muscle cars once filled the land, they were even discussed on Wall Street as possible investments. Today their popularity has wavered, but only with the elite crowd who have shoved them aside to make way for yet new Beemer or Mercedes. Only true love endures, and the muscle cars will always find a home with certain collectors. But most of the want list is riddled with names like GTO, Mustang, Camaro and AMX. Not all muscle car were small or mid-sized power horses. Some were big, with big motors and were, for their size, fast and earn the name muscle car also. Chevrolet began the big musclecar in 1961 with the release of the Super Sport package for their Impala line. Many wrongly believe that the SS package was designed to promote the 409-CI powerplant. This is not the case, the Super Sport was designed to give the full-size Chevrolet a sporty image.
Baby boomers were just coming to age. Wanting to crave a slice of that market, Chevrolet created the Impala Super Sport. It would be the first time the SS name would grace the flanks of a production model. The package was offered on any Impala model, this included the four-door sedan and four-door hardtop. Included in this package was special body side trim ; special tri-spoke look full wheel covers; tachometer; padded instrument panel; 8.00x14 white wall tires; power steering and power metallic-lined brakes; heavy duty suspension and passenger grab bar with SS logo and SS logo on the rear deck lid.
Also part of this package as mandatory equipment was one of the high-performance or Special high performance V-8's only the 348-ci in either 305, 340 or 350 hp version were available with the SS package. Later in the year the 409-ci 360 hp V-8 would also be offered. Four-speed with the standard shifter, though a Powerglide automatic was available with the 305-horsepower powerplant.
While Chevrolet may not have been credited with building the first muscle car, that honor is generally agreed to belong to Pontiac with the GTO, they did create the first true full-size muscle car with the Impala Super Sport. And those others would try; Pontiac with their 2+2, Ford with the Galaxie XL 500; Mercury's Marauder; Plymouth's Fury Sport GT. While today the full-size muscle car has gotten some attention, it is often over shadowed by the mid-sized warriors.
There is another growing trend we have noticed and that is that full-size coupe models are growing in popularity. Convertibles have always been a staple no matter if they are big or compacts. But just recently non-Impala SS two-door hardtops are finding favor with collectors. We feel, that this trend will continue, we will never see cars as big again and that is part of the draw, and it will spread to other makes like Buick and Oldsmobile.
Right now, fine examples of big machines can be found for a little of nothing. And because these cars were usually sold to older buyers back when they were new, the cars have a tendency to still be in fairly good shape still. We scoured the ads and saw four for sale just in the area we are located in, and all were available under $4000.00. Also, don't overlook a four door model as a parts car. The sedan version will easily go for under a grand, and be in good running condition. There is no way we can cover all full-size model in one issue,so we have decided to spread it out. This month we focus on the big Buick.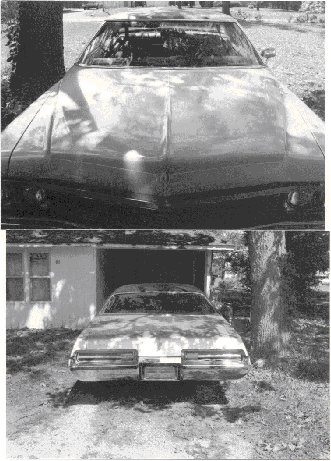 The big Buick comes in two different styles. The Le Sabre, which is closely related to the Impala, and the extra big Electra 225 which is more closer related to the Caddy. For some reason Caddies and the big Electra seem to be too big and the better choice is the LeSabare. Opt only for the convertible or the two hardtop version, and preferably with the large 455-ci powerplant. The 1970-1972 versions can be had in good shape for under two grand with a top and under three grand with a folding top. Also opt for the Custom line, it is a better buy.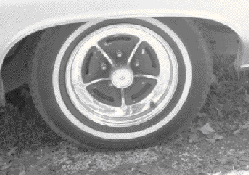 Styled Wheels were available on the big Buick and are an
added plus
.
Coming or going the 1972 Buick LeSabare is big. But a prime
market that is climbing.
Show Me Car Price Scale
| | | | | | | |
| --- | --- | --- | --- | --- | --- | --- |
| Model | Class 1 | Class 2 | Class 3 | Class 4 | Class 5 | Salvage |
| LeSabare 2-dr Hardtop 1970 | 8750.00 | 6,000.00 | 3450.00 | 1500.00 | 1100.00 | 450.00 |
| LeSabare Convertible 1970 | 10,000.00 | 8750.00 | 5000.00 | 2500.00 | 1500.00 | 500.00 |
| LeSabare 2-door Hardtop 1971-72 | 5800.00 | 3890.00 | 2200.00 | 1000.00 | 800.00 | 450.00 |
| LeSabare Convertible 1970 | 9900.00 | 8450.00 | 4550.00 | 2100.00 | 1250.00 | 500.00 |
| With 455-ci Add | 500.00 | 500.00 | 350.00 | 300.00 | 250.00 | 150.00 |

We base our prices on current markets that these models are selling for. Or that the base current mode is selling with an increase for special add ons. This is a summary of our classifications.

Class 1- 100% restored to factory specifications. Looks like it came right off the showroom floor. A Class 1 car is not driven. Very few cars are Class 1.
Class 2- An original that is very well-maintained showing only minimal wear. Could be an older professional restoration. Driven less then 1,000 miles a year.
Class 3- What most show cars are. Looks excellent 20 feet away. But there are obvious signs worn foot pedals and carpeting, chrome is not as bright, but all systems are in operating order. Driven less then 3,000 mile a year.
Class 4- A common used car. Easily shows signs of wear even from 20 feet away. But all systems are in working order or need only minor repairs to make them so. A restoration driven over 3,000 miles a year. Could have light body damage, but no replacement of body panels.
Class 5- Needs total restoration. Damaged front fenders, hood or door panels that need to be replaced. Car can be running or not. No rusted out floor pans, rear quarters or roof panels.
Salvage- Usually not running. Rusted out floor pans, roof but not stripped to the point that it is not useful for parts.

Go to: